Landscaping and groundskeeping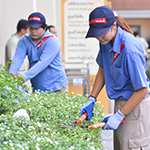 The hospital area setting is an important factor in the well-being of patients and their quality of life. It also gives visitors a favorable image of the hospital, beginning with a well-kept environment outside the buildings.
Maintaining sustainable green spaces
We design, install and maintain the grounds of our partners to provide aesthetically appealing areas for people to enjoy in every season.
Groundskeeping services cover building entrance areas, inner courtyards, terraces and floral decoration of the premises.