Clean and comforting environment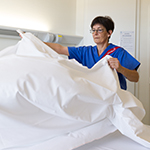 Efficient cleaning services manage risk
Our unique combination of environmental services (housekeeping, bio-cleaning of patient rooms and operating rooms) and support services (laundry services, patient interactive systems and transport services) contribute to enhancing the reliability, hygiene, safety and comfort of healthcare environments.
Our cleaning offers are a portfolio of processes, materials, training and labour management protocols. These processes have been designed to deliver a compliant service modelled around the principles of HACCP, giving our clients confidence that risk is being managed effectively.
Our employees are trained in both cleaning and customer service
With Sodexo's engagement training, our teams are given the tools they need to be comfortable interacting with patients. This patient engagement makes them much more visible, and results in higher patient satisfaction scores on cleanliness of rooms and bathrooms.
Sodexo's Behavioral Training program is designed to teach and reinforce critical behaviours that improve the hospital experience for patients, visitors and clinical staff alike.