24/7 maintenance interventions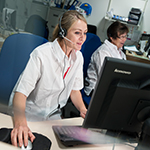 Our teams in charge of maintaining hospital environments receive special training.
Maximo Asset Management offers clients a full range of preventive and corrective maintenance services. Maximo links directly through a computer system to a dedicated 24 hour call center located in Sodexo office. All requests for maintenance are received, managed, and acted upon efficiently and promptly to ensure the smooth running of the institution.