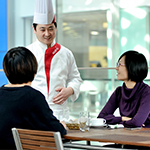 What's in the breakroom
Studies have shown that employee morale is directly tied to productivity. The more, well-nourished employees mean more gets done in a healthy, fruitful work environment.

Using our proprietary consumer behavior profiling tool and customer survey, we design our menus catered to clients' needs – from grab and go to table service.