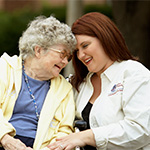 In Western countries, the increasing elderly population has created greater health care needs. Illnesses, both chronic and acute, are particularly responsible for the loss of independence. It can be minimized through daily and dedicated support services.
Help for catastrophic illnesses
An increasing number of people are suffering from Alzheimer's disease or related disorders. In 2010 in Europe, 5 percent of people over 65, and 20 percent of those over 85 were being treated for these types of illnesses, figures expected to rise as longevity increases. At assisted-living facilities, Sodexo offers specific service solutions to care for these patients and assist them, along with their families and medical staff, in coping with their everyday needs.
In France, for example, at Les Parentèles residences, we have developed a special program to ensure respect for the individuality and personality of each resident. Under the program, families and caregivers are involved in helping maintain patients' emotional and social ties.