Our strategic partnerships and alliances strengthen Sodexo's role as a global leader in Quality of Life Services and as a world-class employer. By partnering with professional and industry organizations, advocacy groups and thought leaders, our clients experience the highest level of service, our employees a diverse and dynamic workplace with opportunities for growth, and our local communities greater sustainability and health.
View a complete list of our partnerships and alliances (PDF) that align with our commitments and your strategic objectives.
Clinton Global Initiative

Sodexo announced its official Commitment to Action at the 10th Clinton Global Initiative Annual Meeting in New York today. The commitment supports the growth of small to medium sized enterprises (SME) with a pledge to purchase products and services totaling $1billion by 2017. The Commitment to Action aims to benefit as many as 5,000 small businesses in 40 countries including the U.S., with 1,500 of those businesses being women owned and operated.


Partnership for a Healthier America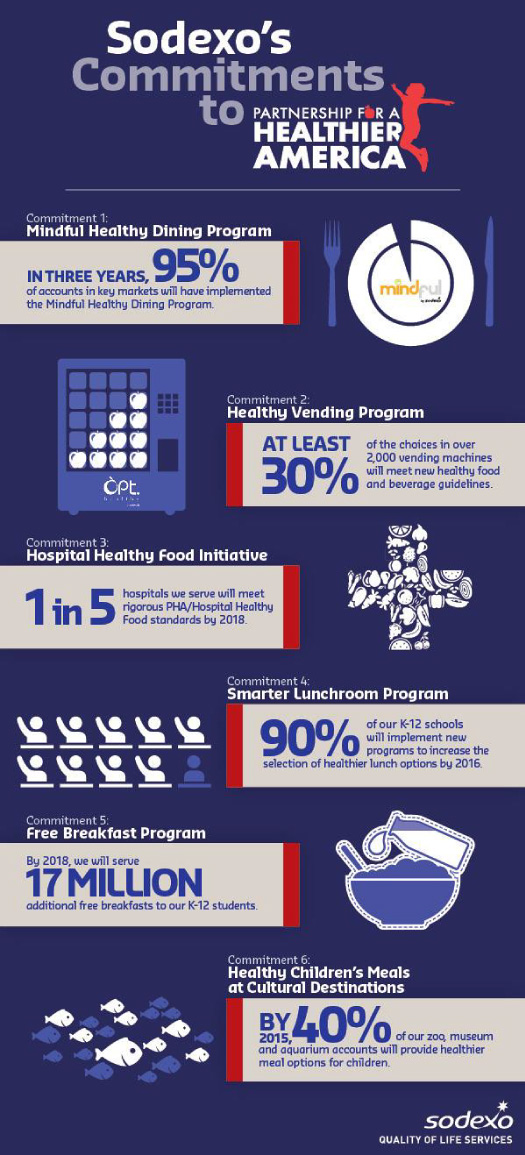 Recognizing that millions of children and families in the U.S. face long-term health and social challenges as a result of childhood obesity, Sodexo joined the Partnership for a Healthier America (PHA) today to announce new commitments to battle the epidemic. In the lead announcement delivered at PHA's Building an Healthier Future Summit this morning, Sodexo committed to engaging and motivating consumers toward healthy choices by widely deploying Mindful, its healthy dining program; expanding healthier food choices in hospitals; offering more free breakfast meals in schools; and increasing the selection of healthier, more nutritious options in its vending and K-12 lunchroom programs.