Technical maintenance and upkeep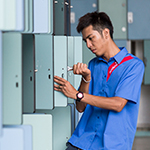 Adopting good environmental practices and optimizing facilities gives schools an important competitive advantage.
An atmosphere for learning
Our efficient operations respond to the needs of schools while optimizing operating budgets. Constant monitoring and maintenance are required to keep equipment and facilities operating safely at peak efficiency.