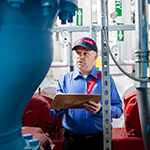 Achieve sustainable savings
Bed occupancy, continuous additions of hi-tech equipment, the number of procedures and length of patient stay are among the factors that determine the energy consumption of a hospital.
Effective energy management begins with rigorous measurement. Our teams measure performance and benchmark utilities while evaluating the availability and reliability of energy supply.