Reception and switchboard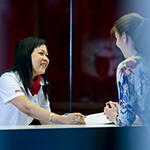 First impressions are very important. A pleasant, welcoming reception is the first thing that visitors encounter when they arrive at a company. Therefore, we attach great importance to recruitment for our reception services.
Integrates into your company culture
Our highly-trained reception team becomes your team, with all the knowledge, skills and commitment of an internal team. Its duties will include managing the telephone switchboard, updating contact directories, ensuring access to parking areas and coordinating deliveries.
The team will receive regular trainings to ensure highest customer service standards and to strengthen their skills.