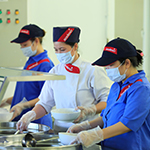 Awareness is growing about employee health and its relation to work performance and business growth. It is important for employers to encourage healthy eating habits in the workplace to increase productivity and, most importantly, to reduce accidents.
Adding well-balanced food to workplace wellness
A global player in foodservices, Sodexo offers culinary and food safety to approximately 2,000 people daily in Vietnam. Our dietitians plan nutritionally balanced menus with reduced intake of fats, sugar and salt that cater to the needs of our clients.