Landscaping and groundskeeping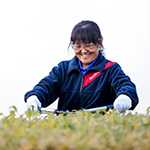 Indoor and outdoor gardens serve as places for employees to take a break, relax and recharge – an important factor to their quality of life.
Maintaining sustainable green spaces
We design, install and maintain the grounds of our partners to provide aesthetically appealing areas for people to enjoy in every season.
Groundskeeping services cover building entrance areas, inner courtyards, terraces and floral decoration of the premises.