Facilities Management: Flexible training for a complex world
Whatever their level of expertise, all new employees receive specialized training when they join Sodexo's North American Facilities Management teams. Whether advanced training for managers, regular re-certification for maintenance employees, or culturally-sensitive cleaning modules, the emphasis is on a flexible approach that constantly develops employee skills over their career.




For some training provision, Sodexo has developed several partnerships with external organisations specialized in Facilities Management. One such partnership with TPC Online delivers tuition in the hard FM industry's core comptencies. Maintenance mechanics can access a rich, interactive course that covers everything from reading blueprints, to understanding transformers, hydraulics or piping systems and other FM skills. Says Phil Rogers of Sodexo's Technical Service Platform, "we have a similar in-house course for cleaning - particularly for environmental and healthcare services cleaning - called Sodexo Shine. Fifty courses in both Spanish and English that cover cleaning techniques from the basics all the way through to carpet care, floor care, safety, etc. It is one of the best practices that we provide."
Tools that are TOPS with frontline managers
"And because we have well over 100,000 frontline employees in North America, our approach has been to put training resources in the hands of the managers who are directly supervising them", says David Miles, Senior Director of Talent and Performance Consulting. "This helps managers build skills and deliver training quickly and as needed, more effectively onboarding new staff." Known as TOPS, Training Our People Equals Success, these resources are a type of "managerial training toolkit." Each TOPS module focuses on one specific topic, designed to be delivered in a short amount of time, typically 30 minutes. Adds Miles, "this is a format that allows busy managers the flexibility that they need and is a tool that is right-sized for them." Free for download from Sodexo.net, TOPS modules currently cover 100 topics, with another 16 on the way, many on specialized cleaning skills like cleaning a shower, a telephone, a computer or cleaning upholstery.
Cleaning methods that save lives
"Many of these cleaning modules come out of the high need for infection control in our healthcare settings," explains Phil Rogers. "Today, the field of infection control is a significant one for our customer base." The American Centers for Disease Control and Prevention estimate that the number of hospital-associated infections from improper cleaning is 1.7 million each year. "And over 99,000 people die each year from these infections. This is a serious area and why we do extensive training in cleaning techniques."
Training ahead of the trends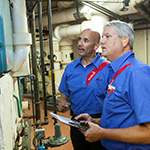 Cleaning for the healthcare industry is just one example of how Sodexo works closely with clients to develop training to meet their needs. "We are consistently reaching out to business to find out new training areas," says David Miles. In North American Facilities Management training, the areas of Energy and Critical Environments are emerging as key trends. Not just because of the cost savings that better energy management can deliver, but for reasons of sustainability and environmental responsibility. Asserts Philip Rogers, "in the U.S., energy accounts for roughly half of a facility's operating expenses. So we have been developing training both for Sodexo staff and customers on everything from energy awareness to prevention, reduction, and efficiency. And we've produced a series of Webinars that provide frontline employees with training on energy performance contracts, energy audits, utilies management and procurement, and building operations."
As for Critical Environments, Rogers defines these as facilities "which, if they go down, there is a major impact on the business. Data centers, for example, if the power is lost, they lose money." Critical environments are highly sensitive environments. "If something goes wrong, it's not simply about changing a power outlet. Anything dealing with critical environments requires advanced training in power, emergency generators, redundancy systems, process control. "It takes weeks of planning, scheduling and checks and balances just to do a simple routine maintenance. And all that requires training."