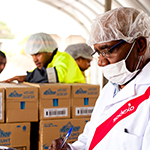 It is never easy to manage a remote site without having a well coordinated procurement supply chain.

At Sodexo, we pride ourselves in our wide network of global suppliers all across the 80 countries where we operate.
With such a wide network support, we ensure timely logistics of materials to even our most remote operational site anywhere in the world.