Benefits and Rewards Services
Our services such as the meal pass, gift pass, culture pass, sport pass, childcare pass, mobility pass in addition to incentive and recognition programs open the doors to healthier lifestyles, a more satisfying work-life balance, as well as greater personal development and professional recognition.
Services designed to meet the needs of companies and organizations
Employee Benefits
Services to attract, retain and engage employees
Sodexo's Employee Benefits respond to the issue of company compensation policies, helping clients enhance their appeal and improving organizational efficiency.
Attracting, retaining and increasing the engagement of employees while improving their quality of life
In a highly competitive environment, the ability to attract and retain talented people is essential for every public and private organization, regardless of size or market. Knowing how to motivate employees can provide companies with a true competitive edge.
Sodexo offers businesses tailored, integrated solutions that bring both economic and tax benefits to help them optimize their compensation policy and enhance their appeal.
The Meal Pass ensures a varied diet, the Sport Pass encourages physical exercise, and the Mobility Pass helps with the cost of commuting: Sodexo services improve employees' quality of life on a daily basis, giving them the peace of mind needed to focus on the job.
These services have a direct impact on employee engagement and boost the performance of companies and organizations, by encouraging healthier lifestyles, improving work-life balance, and promoting personal development and social interaction.
---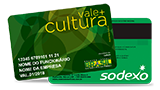 Culture Pass
In Brazil, our Culture Pass allows companies to help their employees make the most of the latest exhibitions, concerts and movies.
Incentive & Recognition Programs
Solutions to motivate employees and recognize their efforts
Sodexo services make it easy for organizations to effectively manage their Incentive and Recognition programs to boost sales, manage a partner network, acknowledge employee loyalty and achievements, and reward their efforts.
Motivating employees and acknowledging their efforts
Being recognized for their hard work and being rewarded for their efforts or achievements is one of the prime motivating factors for employees. Rewards increase employee engagement and have a broader positive impact on improving the company's overall performance. To ensure that employees feel truly recognized as individuals, rewards must be appropriate and customized. Through its ability to understand and track the expectations of employees and consumers, Sodexo is able to offer seamless, tailored solutions that enable companies to unify their teams around common goals and reward everyone's efforts, whatever the culture or population.
---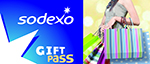 Innovative solutions to thank customers and boost sales
In Indonesia, shoppers who buy Samsung products receive a Sodexo Gift Pass. The passes can be redeemed for anything from luxury goods to groceries at some 12,900 outlets operated by 269 partner retailers throughout the country, enhancing and extending the buyer's positive experience with Samsung. The program also boosts sales volumes by rewarding staff for each product sold. The initiative builds on Sodexo's long-term partnership with Samsung, which dates back to 2011.
Expense Management
Solutions to optimize and simplify business expenses
Sodexo's customized solutions integrate payment cards and online platforms to make it easier to manage and track business expenses.
Optimizing and simplifying business expenses
Improving quality of life includes enabling businesses and employees to perform their daily work efficiently, seamlessly and cost-effectively. Sodexo services help Finance and Human Resources Departments to simplify, secure and optimize employee expense management while ensuring that staff are not required to personally advance funds to cover their business expenses.
Sodexo programs and services incorporate innovative solutions such as payment cards and online platforms to manage fuel or business expenses, delivering simple, easy-to-access programs that streamline processes for employees and help improve business performance.
---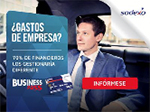 Simplifying expense management and VAT recovery
In Spain, Sodexo's exclusive Business Pass includes an automated VAT recovery process for expenses such as restaurants, fuel, taxis and parking. The solution also offers the ability to track expenses by amount, date, category and other parameters, making it a comprehensive tool for controlling employee expenses incurred both in Spain and abroad.
Public Benefits
Solutions to ensure and enhance the distribution and allocation of government assistance
Sodexo solutions help public entities to manage their budget resources while providing access to basic services, culture and residential support services for millions of people worldwide.
Ensuring and enhancing the distribution and allocation of government assistance
Faced with changing demographic trends (aging population, increasing urbanization, a rising middle class, the development of initial and continuing education), public entities today seek solutions to more precisely target assistance as well as to control public spending. Sodexo's solutions facilitate the work of public authorities, helping them to optimize budget resources and achieve goals in terms of social, cultural and education policy.
Culture Pass offers students access to sports and cultural activities;
Education Pass helps families to provide learning support for their children;
CESU Pass offers in-home assistance to seniors and individuals with disabilities.
Our services promote the development of the local economy and help to create long-term employment.
---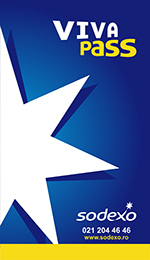 Better quality of life for low-income seniors
The Department of Social Services of Brasov County in Romania partnered with Sodexo to help improve quality of life for some 10,000 low-income seniors receiving public assistance.
Sodexo's Viva Pass provides beneficiaries with access to basic necessities such as food, hygiene products and medicine.
Gift Cards and Boxes
Simplifying the pleasure of giving and receiving
Building on its recognized expertise in designing and implementing corporate gift programs, Sodexo developed two gift concepts for consumers, Gift Cards and Boxes, which offer a combination of simplicity and freedom of choice to ensure there is something for everyone.
Simplifying the pleasure of giving and receiving
Sodexo offers a range of personalized solutions to meet the expectations of consumers looking for gift offers tailored to their preferences:
Gift Boxes: Sodexo has reinvented the gift box concept with Vivabox. Each Vivabox holds a number of themed samples that let the recipient test a whole array of products to find the perfect one—the ideal solution for people who prefer to try before they buy! This unique gift concept makes it possible to give something that is bound to appeal and goes beyond the boundaries of a single product or brand.
Gift Cards: Sodexo's multi-themed gift cards are accepted by a wide array of partner brands. Household goods, sports, fashion, beauty, food, culture, travel…
Recipients will be spoiled for choice. For those wishing to offer a gift on behalf of a number of givers, organizational details are no longer a worry: the "Carte Commun" gift card is a new concept that makes it possible to collect up to €2,500 by inviting people to contribute online.
---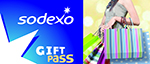 An online gift solution for Filipino expats
A new online gifting platform lets Filipino expatriates around the world easily send gift vouchers to family members at home.